This post is sponsored by Les Mills and Reebok to promote their Immersive Fitness program. The opinions and commentary are all mine.
When I was contacted about writing a post for this program, I had no idea what it was about, so I watched the video above to try to find some answers. Afterward, I still had no idea what was going on. But as I read into it, I learned that it is about doing group fitness classes in front of gigantic screens meant to simulate different environments. The speculative-fiction-author side of me latched onto this idea immediately, and I had to ask myself does the future of the fitness industry lie in virtual and augmented reality?
What is Augmented Reality?
First off, you need to know the difference between virtual reality and augmented reality. In virtual reality, you're basically inside a video game. In concept, everything that you're seeing and interacting with is generated by a computer–like the holodeck on Star Trek or Job from The Lawnmower Man.
Augmented reality, however, is like an overlay for your life. You might get a popup about stuff you're looking at–look at the sky and get a weather forecast, see a face and get links to that person's social media profiles. Or like in Tobias Buckell's "A Game of Rat and Dragon," have nodes that overlay and gamify the real world.
While Google Glass is kind of a baby-step into augmented reality, the result is kind of a bummer.The future, however, is bright because of VR projects like the Oculus Rift and the Virtuix.
But what does this have to do with fitness?
Just think about this: how much do you hate running on a treadmill? How awful is sitting for hours on a stationary bike? Just how bored do you get after a session on the elliptical trainer?
I know I can't stand any of them. Even with a good audiobook, TV show, or whatever else, indoor fitness just gets my goat. I can do it on occasion, but I'd much prefer to be outside, running on the road, biking a trail, whatever. I want the wind in my hair and the sun on my skin.
As much as I love being outside, even the best things in life get boring. There are only so many times you can run around the same track, only so many variations that you can take on your route through your neighborhood before it all becomes just as monotonous as trudging along on the "dreadmill."
But what if you could run through the Amazon rainforest? What about cycling along the edge of a glacial chasm or the rim of an erupting volcano?
That's where augmented/virtual reality comes in, and it looks like the Immersive Fitness project is a decent first step.
There is no way for most of us to do that in real life, but once the technology reaches a certain point, we can at least experience it virtually.
I mean, think of the possibilities–sure, treadmill workouts could be transformed by virtual reality tech.That's a given. It'd be easy to slap on a headset or use a large HD screen (I'd say of at least 8k resolution in 360 degrees) and have the program track your progress through the virtual world based on your pace.
And then there's augmented reality. How awesome would it be for you to be able to wear some glasses that took the world around you and overlayed anything you wanted to see. Want to go running through the streets of Stormwind from World of Warcraft? In my mind, all that would take is a quick download of an app/texture pack and it would turn that field to your left into Stormwind Harbor or that church on the corner into the Cathedral of Light.
On top of that, just think about how, if something like Immersive Fitness caught on, your normal group fitness classes could be improved. Instead of a plain studio where you're doing your yoga flows or Zumba routines, you're surrounded by HD visuals of Indian sunsets, or you're dancing on the beach in the Caribbean.
I don't know about you, but that's a heck of a lot more exciting than my neighborhood in Alabama, or watching another season of The Biggest Loser while pedaling myself into good health on my bike trainer.
The Future is…When?
I understand that this kind of technology is a long way off, since Google Glass is just the tiniest of baby steps in this field, and the new Android Wear and iWatch hasn't even been released yet. But we're getting closer.
Think about how far virtual worlds have come in the past 20 years, from the technology used to make them to how much time and energy people invest in them. Just think about the differences between first-gen online games like Meridian 59 and Ultima Online to current ones like World of Warcraft, WildStar, and Second Life. While they're all technically the same genre, the similarities really stop at them being online worlds. And those are just on screens, interacting with them with keyboards, mice, and gamepads.
What I'm envisioning is the next jump in interacting with online worlds, experiencing them with our whole bodies instead of just our eyes and fingertips.
And like I said earlier, at my core, I'm a speculative fiction author, which means all this navel gazing and what-iffery isn't for nothing. I'm currently in the process of looking at this phenomenon by writing a cyberpunk novel that combines elements of Ernest Cline's Ready Player One and Neal Stephenson's Snow Crash, and the most interesting part of it for me is looking at the blurred lines between virtual/augmented reality and the real world.
People obviously love virtual worlds. They love to escape their mundane lives through games and MMOs–and we can't doubt that those are massively profitable industries (forgive the pun)–then why not through exercise, too? Why not take something that many people loathe and do what you can to make it more exciting and enjoyable? If you remove the dread and perceived monotony from exercise, wouldn't more people get active and live healthier lifestyles?
That really seems to be what Immersive Fitness is doing–at least the first steps toward it. I, for one, am looking forward to the day when I can pop on my sunglasses, pick my exotic locale, and get my heart rate up without ever leaving the air conditioned awesomeness of my living room.
And be sure not to miss the Geek Fitness Health Hacks Podcast! Click to listen to all the episodes now!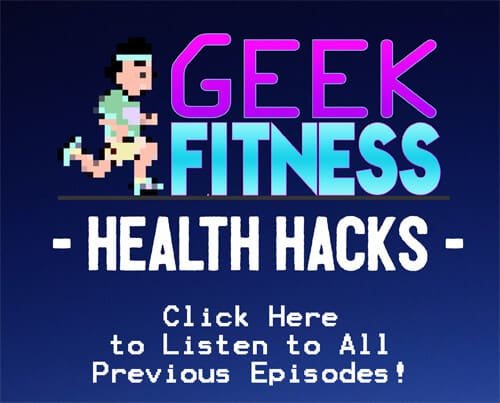 The next level of fitness is here. IMMERSIVE FITNESS™ surrounds participants with cinema quality video content projected onto screens of a purpose-built studio.  Exercise moves synchronize perfectly with music and graphics, creating a truly immersive fitness experience. Learn more! 
This is a sponsored conversation written by me on behalf of Les Mills. The opinions and text are all mine.