Disclaimer: I received a pair of the Under Armour HOVR Sonic shoes to review as part of being a BibRave Pro. Learn more about becoming a BibRave Pro (ambassador), and check out BibRave.com to review find and write race reviews!
Now, y'all know I am picky about running shoes. Over the past few years, I have bought oodles of them from Zappos — all of which I've returned (btw, Zappos returns are great). I finally landed on the HokaOneOne Arahi 2 as my go-to shoes because, well, they rock. But when I was given a chance to try out the UA HOVR Sonic shoes, I couldn't pass it up.
My best friend has recently bought a pair of UnderArmour running shoes and love them, so I figured this would be a great opportunity. And it was. These shoes are actually really awesome, and I'm going to keep them in my rotation for a good long time.
The Good
They look really, really good. I know that may not matter to some people, but I ain't wearin' no ugly shoes. And even though the pair I have is grey (which I tend to avoid like my doggo does water), they look nice because they're not solid grey. The design is sleek, and the texture that the upper has makes them stand out in a way a lot of white and grey shoes can't.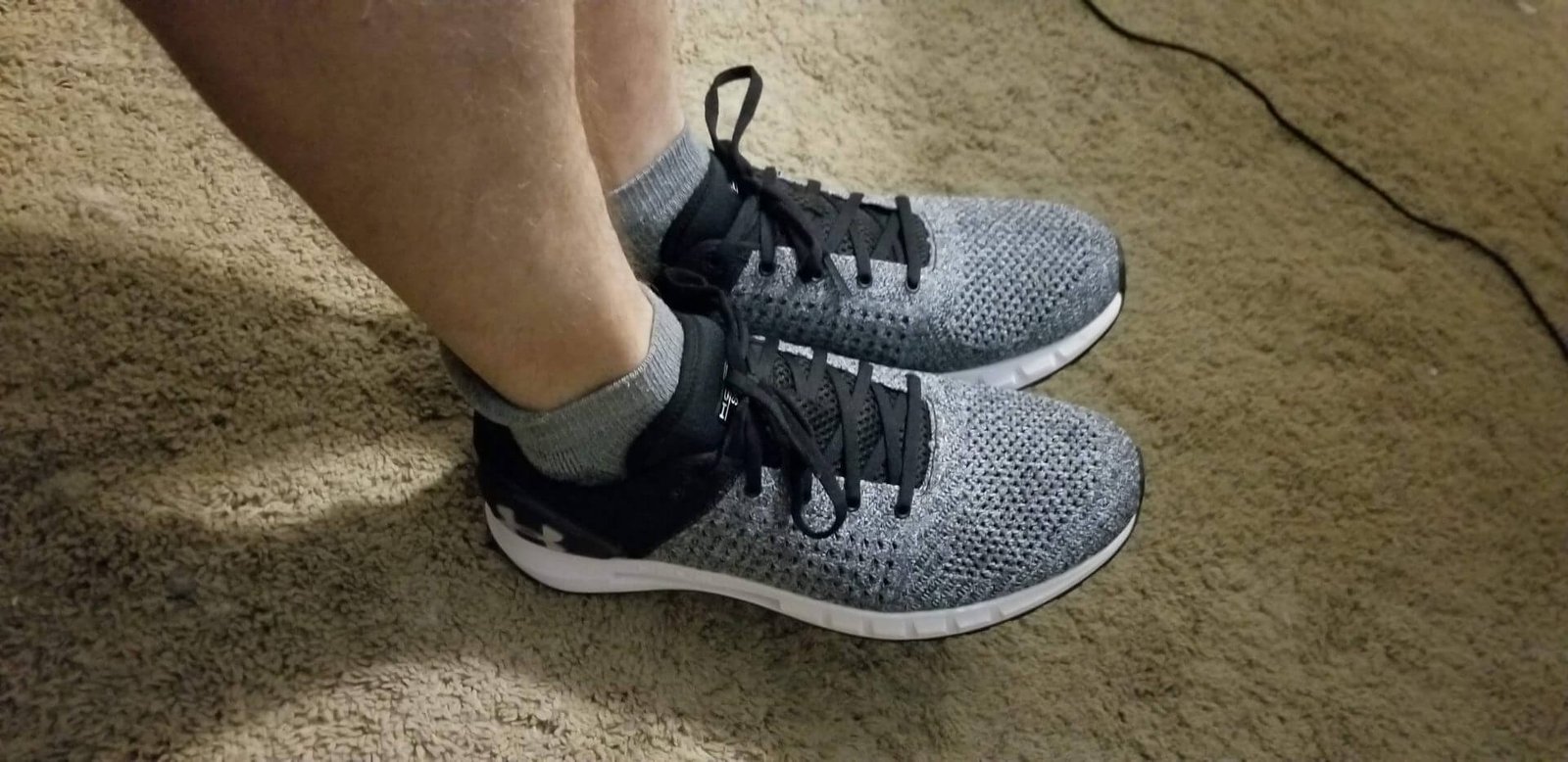 They are comfy and soft. The moment I slid them on, I knew I was gonna enjoy these shoes. UnderArmour has made the upper a breathable mesh that's probably softer than any I've tried so far. I can wear these shoes without socks without itching or feeling a rough seam. (Though my feet get pretty sweaty so I can't run more than a mile sockless before I start slipping and sliding all over the inside.)
And in terms of just comfort, I mean…I wear these things around town. They look good and are just stylish enough that I can throw them on when I just go around town. Usually I only do that for running shoes that are nearly worn out, but once I wore these to Walmart one day…I can't get over how much nicer a pair of shoes that hasn't been beaten down by the road is.
I am ultra picky, like I said, and these are some of the most comfortable shoes I've put on my feet in a couple of years. UA did a great job in putting them together. I honestly don't know what kind of foam they use in the mid-sole, but it is a heck of a lot better than the New Balance FreshFoam or the Brooks DNA midsole. I generally know within the first few steps if I can stick with a shoe (and I am rarely wrong, despite pushing miles and miles in). And the UA HOVR Sonic didn't hurt my knees or my ankles at any point while I ran, from the beginning or to the end of the run. These day's that's pretty rare for me, which is why I am particular about my shoes.
The whole "energy return" thing UnderArmour touts about these things tends to work. I didn't notice it that much running (Alabama summers kinda suck any energy away, regardless), but they certainly do put a spring in my step.
The Bad
I have found two things that I don't really like about these shoes.
The sole is pretty slick. I find myself not being able to gain traction as much on surfaces that don't have a lot of grit on them already. This isn't, like, running on ice or water, but I don't feel nearly as sure-footed as I do usually. That's partially because of the design of the sole. It's made for energy return and efficiency, so the tread is designed with that in mind. That's okay, but I'm kinda clumsy…sooo…
And the upper, while mega-comfy and soft, can get a little loose. I have to really, really tighten them to get a snug fit. And these are in a 10 M, so they're dead-on my size. I may suggest going a half-size lower if you want a pretty snug fit. I always have an issue with width and fit because of my strangely shaped Hobbit feet. Short, thick, and wide means that I rarely get that Goldilocks fit, but the UA HOVR Sonic is even a bit looser than most.
The Ugly
These will never be my daily driver running shoes. I wish that they could be. I really do. The UA HOVR Sonic is a very well-designed shoe. But I wear stability shoes. And these are not stability shoes at all.
The Hoka Arahi 2 that I wear keeps my twisted little footsies straight, and the UA Hovr Sonic isn't built for that. So they can't be the shoe that I run most of my miles in. I can do shorter runs in them, sure. I won't injure myself that way, and it gives my feet and ankles a break from the stabilization. In that regard, they are quite not-ugly. The ugly part, though, is that because they're a very, very neutral shoe designed for efficiency and energy over form.
That's fine. They're pretty solid at that. But day in and day out, I don't need that. I can totally see myself wearing these for 5k races, though, when I need to push quickly and be done with it.
Overall
I really like these shoes. I'm glad that I finally gave UnderArmour a chance because they've really upped their game in terms of running shoes over the years. When I started running, UA had just begun to enter the field, and their offerings were pretty decent — but they were definitely initial offerings. I tried some on and never took them onto the road.
The UA HOVR Sonic is definitely road-worthy, and I think it's most certainly worth a trip to your nearest running shop to at least try on to see for yourself.
Have you tried the UA HOVR Sonic (or any other UA running shoe)? Let me know what you think!